Session 4: 14/06/21
6-8pm

Presenters: Caroline Smith, Donna Matthews, Farouk Yahya, Sheona Beaumont



---



Caroline Smith



BioCaroline Smith is a performance maker and writer whose comical and often sinister works reveal the unfamiliar in the everyday and the commonplace in the strange. Her themes explore the inevitable disturbances that arise between self and other. She often works in character and engages with constructed and imagined atmospheres that are compelling and often uncomfortable. She treats silence as a material and hosts dinner parties and café interventions in order to reveal how non speech impacts the event. She has performed at many of the UK's leading theatres and galleries including the Royal Festival Hall, Tate Modern, Tate Britain, ICA, Whitechapel Gallery, Hayward, Chelsea Theatre, Summerhall, Colchester and Norwich Arts Centres. Presentation I find non speech as a Buddhist practitioner, artist and writer multi-faceted. In feminism, broadly, it is associated with oppression. But silence can be dramatic, physical, aggressive, energetic, listless, heavy, shameful, mundane. The silent large scale theatrical dinners and café interventions that I have hosted reveal that silence is constantly changing, offering heightened realms and the potential for deep listening (coined by Pauline Oliveros). This presentation explores my use of silence as an artistic tool and for collaboration. An in-breath to your out-breath. carolinesmithonline.com
---
Donna Matthews

Bio
Donna Matthews is an improvisor, musician, and video artist. In the 1990's she played lead guitar in
Elastica
and lo-fi, DIY band
Klang
, and in subsequent years devised and facilitated creative workshops for people in recovery from addiction. She is currently studying a practice-based PhD in Theology at the School of Critical Studies, University of Glasgow, researching
Improvisation as a Liminal Experience
. Interested in issues such as poetic intuition, inspiration, and gift, her work explores how the intuitive state might be conveyed through aesthetic form, whilst also exploring improvisation as a means of 'undoing form' in order to experience the inspired state.
Presentation
Donna will play excerpts from current improvisations discussing questions and concepts that inform her practice.
youtube.com/channel/UConndQKs69PNykUf6l9SKwQ
instagram.com/donnalmatthews/
---
Farouk Yahya



Bio

Dr Farouk Yahya is a Research Associate in the Department of the History of Art and Archaeology, School of Arts, SOAS University of London. His research interests include the Islamic arts of the book, as well as texts and images relating to magic and divination, particularly in Southeast Asia. He is the author of

Magic and Divination in Malay Illustrated Manuscripts

(Leiden: Brill, 2016) and editor of

The Arts of Southeast Asia from the SOAS Collections

(Penang: Areca Books, 2017). His latest book is the co-edited volume

Islamicate Occult Sciences in Theory and Practice

(Leiden: Brill, 2021).

Presentation

One of my current areas of research is on calligrams or pictorial calligraphy. These are texts that have been shaped into images. In my talk I will focus on calligrams produced by Muslim societies in Southeast Asia from the 18th century up to the present day. I find them fascinating and I believe that they are an important area of research for a number of reasons. For example, the calligrams are often composed of sacred texts, and thus they can help us understand the relationship between art and religion. Furthermore, they can also make us reflect on how we define and perceive texts and images (are they texts or are they images?). In doing so they bring another dimension to discussions around the so-called "prohibition" of figural representation in Islam.

https://soas.academia.edu/FaroukYahya
---
Sheona Beaumont
Bio
Sheona Beaumont is an artist and writer working with photography. She was Bishop Otter Scholar (2017-2020) with the Diocese of Chichester and King's College London, curating and writing about the relationship between art and theology. She has written for
History of Photography
,
Religion and the Arts
,
Art+Christianity
, and the Visual Commentary on Scripture, and her artist books include
Eye See Trinity
(2016, the result of a residency at Trinity College, Bristol) and
Bristol Through the Lens
(2011). She is co-founder of Visual Theology, and together with Madeleine Emerald Thiele, has co-edited the forthcoming volume
Transforming Christian Thought in the Visual Arts: Theology, Aesthetics, and Practice
(Routledge, 2021).
Presentation
Sheona will introduce work-in-progress from a new series of photographs,
We Went to Church on Monday
. From 2017-2019, Sheona documented life at St Cyriac's Church, Lacock as part of a commission to reproduce the guide book and other visitor materials. The images capture a Church of England village church which is in many ways typical of worshipping life in a rural setting, rooted in centuries-old traditions and symbols. In a more creative approach, however, the Christian faith itself is explored by Sheona's layering and connections made between images old and new. Theological conversations emerge with colourful and dramatic photographic expression.
shospace.co.uk
visualtheology.org.uk
---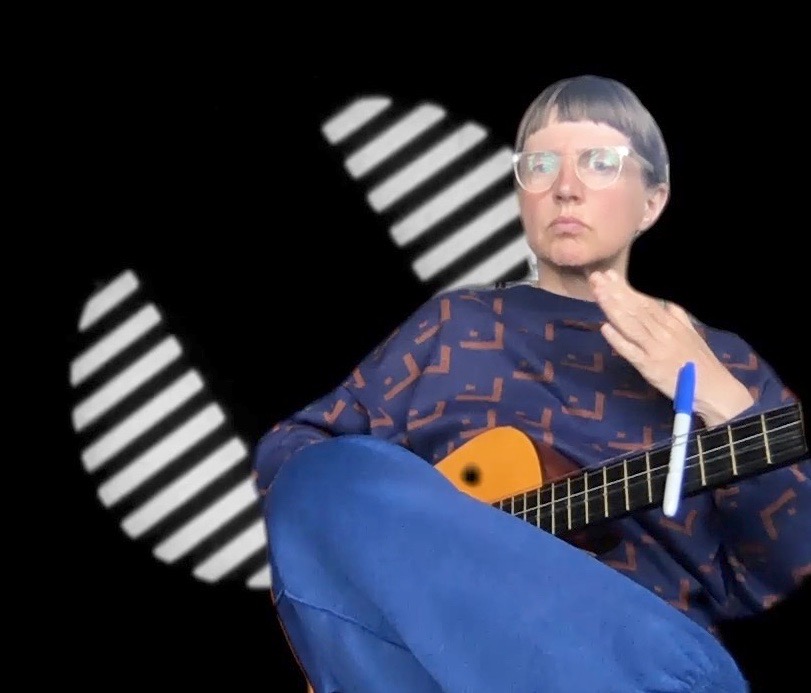 Top

Caroline Smith
'Sharing Silence'
(performance photograph)

Upper middle

Donna Matthews
'All in Everything'
(performance photograph)
Lower middle

Farouk Yahya
'Lion of 'Ali' calligram in the Sang Cipta Rasa Great Mosque in Cirebon, Java
(photograph)
Bottom

Sheona Beaumont
'Soul Survivor Supper' (photograph)