Session 2: 19/04/21
6-8pm

Presenters: Alastair Gordon, Becky Beasley, Geraldine Franklin, Sarah White




---



Alastair Gordon



Bio

Alastair Gordon is a London based artist and co-founder Morphē Arts, a Christian mentoring charity in support of early career artists. He is course leader for the Graduate Residency Scheme at Leith School of Art, Edinburgh where he also lectures in painting. Last year, Alastair was artist in residence for City and Guilds of London Art Schools followed by a parallel residency with PADA Studios in Lisbon.

Recent solo exhibitions at Aleph Contemporary, London (2020) and Ahmanson Gallery, Los Angeles (2017). Works feature in various international collections and art fairs. In 2019 Alastair served on the judging panel for the Art and Christianity Award for art in a religious context and was also co-recipient of the Dentons Art Prize. His third book, Why Art Matters, comes out with Inter Varsity Press in June.

alastairjohngordon.comPresentation

I will show recent works from the studio as my practice moves from heightened realism to a more gestural and intuitive approach. The daily rhythm of painting evokes a form of studio liturgy where intuition is embodied in material practices and prayer becomes an agent of creative flow. As such these are paintings about painting and the process of making: about the vulnerability of the artist as one season of making gives way to another.
---
Becky Beasley

Bio
Becky Beasley (born 1975) is a Hastings-based artist and Senior Lecturer in Fine Art (Studio Practice) at Goldsmiths College. She works in sculpture, installation, writing and photography to express the ambiguities and essential opacity of human experience. Key to her working processes is the idea of burrowing: a digressive and exploratory practice focusing on everyday moments of intensity and private revelation. From these moments, she slowly produces objects, images and environments that make perceptual that which is often at the limit of language: the overlooked, the minor or the silenced. Beasley's endeavour has a quiet political charge, hopeful of enabling human beings to relate to one another in deeply private experiences of life and otherness, perhaps otherwise indescribable. Key to her practice is the experience and concept of faith and passion as processes of the mystery of life as a deathbound journey towards its completion. The Passion - its process and agonies and final completion in the Resurrection - are explored through time and space-based works throughout her practice. The poverties of grace and economies of means have always been a core practice.
Solo exhibitions and performances include Plan B Gallery, Berlin; 80WSE Gallery, New York; Towner Gallery, Eastbourne; SKUC Public Gallery, Ljubljana; South London Gallery, London; Leeds City Gallery, Leeds; Spike Island, Bristol; Serpentine Gallery Pavilion, London and Tate Britain, London. She received a Paul Hamlyn Artist Award (2018-2020) and is represented by Francesca Minini Gallery, Milan and Plan B Gallery, Berlin.
beckybeasley.com
Presentation
Becky will speak about her HD video A Man Restored a Broken Work (2015) (21:54 minutes) which can be viewed in advance at
vimeo.com/showcase/8325924
. In this work, a man's hands are seem repairing a damaged early woodwork by Beasley. These same hands have figured previously in the photographs Walnut Hand and Cucumber Hand (I-III) . The work references Robert Bresson's film, A Man Escaped, both in the premature denouement of the title and in its focus on process, time and manual work. The man examines the broken pieces of each of the parts of the sculpture–the lid and the box – originally based on a narrow she box I found in Soho– and then repairs each part. The two parts are never seen together. The film ends when the second part– the lid¬ has been completed, as A Man Escaped ends when the man escapes.
---
Geraldine Franklin



Bio

I have a BA First Class Honours multi-Disciplinary Design Degree in Art and Design, and Post Graduate Diploma in Art Therapy. I am passionate about being creative and bringing this out in all ages in my workshops in Deptford at the Noah's Ark. I paint with oils and acrylic paint as well as screen print and make organic forms in clay. I have taught art for thirty years and worked as an Art Therapist with all ages in schools, hospitals, day centres, a prison, hospices and adult education.

geraldinefranklin.wordpress.com Presentation

I will speak about some commisioned pieces on the subject of love. These weren't necessarily going to take on a spiritual nature but I felt they did. Simply put, whilst I was trying to find a way of expressing this subject on canvas, and in choosing two figures with which I wanted to express desire, the male figure I felt became like Jesus. This might sound corny, as when one sets out to create, it is not always at the forefront of thinking as to what may materialise. The figures I used were from a body of work drawn at the Lewisham Arthouse, as during lockdown I couldn't work from a live couple. My Christian approach I am sure has brought this to the fore; therefore my feelings of interest and delight in the pieces that came out were revelatory and gave rise to positive feelings of connection and joy.
---
Sarah White



Bio

Sarah is a London-based artist working across installation, performance and writing. Sarah completed her MA in Fine Art at Chelsea College of Art, and her BA at Aberystwyth University (Wales). Her most recent project was a collaboration at the Round Room Residency with Koppel Project, Holborn (2020). Sarah has also worked as an artist mentor with Morphē Arts since 2012: supporting Christians working professionally in the arts and developing critical thinking and research across theology and the arts.

sarahwhite.org.uk Presentation

Sarah will be presenting her current research concerning orientational and bodily metaphors in scripture and how these attempt to articulate what kind of encounter we can or cannot have with God. This will be related to her own collaborative performance and writing practice which has recently explored the images and language of ascent and descent, up and down, rise and fall, high and low and distance and nearness.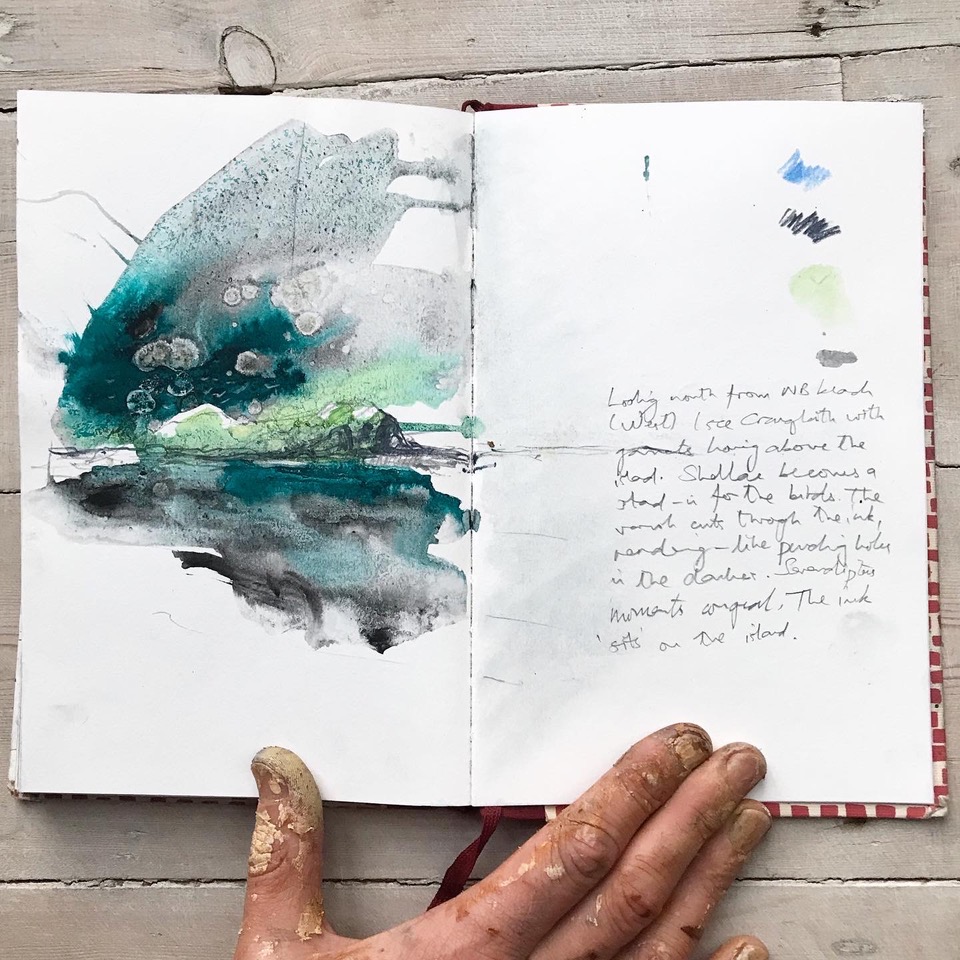 Top

Alastair Gordon
'Light the candle. Say the prayer. Open the sketchbook.' (photograph)

Upper middle

Becky Beasley
A Man Restored a Broken Work (video still)
Lower middle

Geraldine Franklin
(painting)
Bottom

Sarah White
Traces of an Absent Body (performance still)